Posted by George Raymond on September 6, 2016
The Swiss city of Basel is planning a quantum step in its metropolitan-area rail service by opening a set of cross-city tunnels by 2030. Priced at about 2 billion Swiss francs, Basel's next-generation S-Bahn network was the centrepiece of an April 26-27, 2016, rail conference in Basel. The conference also examined rail policies and projects in the neighbouring regions of France and Germany and other Swiss cross-border rail projects in Geneva and the Italian-speaking canton of Ticino.
Contents
| | |
| --- | --- |
| The Basel region | |
| An operator and a supplier | |
| Other Swiss cross-border rail links | |
| Swiss financing | |
| German viewpoints | |
| French viewpoints | |
| Trends and Basel | |
Strengthening a weak link
Transport planning for the Basel metropolitan area involves the neighbouring French and German regions and five Swiss cantons, including both urban Basel-Stadt and Basel-Landschaft with its suburbs and towns. Basel-Stadt is Switzerland's smallest canton by far, but its population is close to 200,000. The much larger and lesser-known Basel Trinational Eurodistrict encompasses some 250 towns and cities in Switzerland, France and Germany and a population of nearly 900,000.
The plan for tri-national S-Bahn services in Basel in 2030. Trains will generally run at least every 30 minutes. New cross-city tunnels will offer stops in Grossbasel and Kleinbasel. The proposed tunnel configuration at Basel SBB won't allow trains coming south from Freiburg im Breisgau and Weil am Rhein (red line) to run into the cross-city tunnel to Grossbasel. Source: Trireno/Agglo Basel.
At the conference, Sabine Pegoraro, Basel-Landschaft's top transport official, announced the creation of the public agency Trireno to jointly optimise S-Bahn infrastructure and services. New infrastructure will include a link to Basel's airport and a set of cross-city tunnels known as the Herzstück, or heart piece. Under the motto "one region, one train, one ticket", Pegoraro said, Basel's future tri-national rail network will offer Basel-area residents in all three countries a one-seat, one-ticket ride between many more points than today.
S-Bahn project head Ralf Chaumet said that Basel already has good long-distance trains and local distributors such as trams and buses. The weak link is the intermediate network for the metropolitan area, the S-Bahn.
Gateway or bottleneck?
As it expands, the S-Bahn will compete with these same long-distance passenger services for scarce rail capacity around Basel. Freight trains also compete for this capacity. Chaumet said that Basel has the heaviest rail freight traffic within the entire trans-European transport network (TEN-T). Basel is on two European rail freight corridors:
the Rhine-Alpine corridor 1 from the North Sea ports via Duisburg to Genoa, and
the North Sea – Mediterranean corridor 2 from the North Sea and northern French ports to Lyon and Basel.
And this traffic is expected to increase, especially after the slated 2022 completion of the proposed Gateway Basel Nord tri-modal container terminal.
Guy Morin, Basel-Stadt's top official, said that Basel was faced with the choice of becoming either a "gateway or bottleneck".
Planning Basel's S-Bahn involves three countries, three rail infrastructure operators and seven jurisdictions: France's Grand Est region, the German state of Baden-Württemberg, and the Swiss cantons of Basel-Stadt, Basel-Landschaft, Solothurn, Aargau and Jura. The S-Bahn's Chaumet said that public bodies in each country have a wholly different process for contracting out rail service. These must be harmonised for Basel's S-Bahn.
The two Basel cantons are currently financing a 30 million Swiss franc (CHF) preliminary study for the Herzstück tunnels. Basel-Landshaft's share is CHF 10 million.
Basel's rail stations today, including the main station run by Swiss Federal Railways (SBB) and the Badischer station run by the German Railway (Deutsche Bahn). Main lines leave the city toward Basel's EuroAirport, Strasbourg and Paris; toward Freiburg im Breisgau and Germany; toward Waldshut via the German north bank of the Rhine to the Swiss city of Schaffhausen; and toward Olten, Bern and Zurich in Switzerland. Götz Schackenberg presentation.
Lines across the city, not just into it
A first-generation version of the tri-national S-Bahn has already been running in the Basel area for two decades, Chaumet said. But the S-Bahn's operations today are inefficient because trains must reverse and thus wait at Basel's main SBB and Badischer stations.
Trains that stop and wait, Chaumet said, are consuming space. And the S-Bahn has untapped potential ridership because of insufficient direct service on popular origin-destination pairs. Chaumet said that the S-Bahn needs to progress from lines that go into the city to lines that cross the city.
The current plan for Basel's Herzstück cross-city tunnels. New stations will be built under the existing SBB station, the University of Basel and the neighbourhood comprising Basel's Badischer Deutsche Bahn station, the Messe trade-fair centre and the pharmaceutical company Roche. Götz Schackenberg presentation.
The placement of the S-Bahn's new lines is still in flux. Designers are having trouble running the tracks of the Herzstück cross-city tunnels directly into Basel's existing SBB and Badischer stations. The current plan is to build the Herzstück's platforms beneath and at an angle to the existing platforms. A drawback of the plan, however, is that the frequent southbound trains expected on the line from Freiburg im Breisgau, which is being expanded to four tracks, can't run directly into the Herzstück cross-city tunnels.
Götz Schackenberg, head of the consortium supporting Basel's Herzstück, said that the cross-city tunnels must be built to handle all possible trains. This may mean longer platforms and gentler grades for intercity trains, even if they are currently not expected in the tunnels. Schackenberg said that after preliminary design studies in 2016-2017, by 2019 the Swiss parliament is expected to approve funding for a construction start in 2022 and an opening in 2030. The project must not just coordinate the seven geographical jurisdictions, he said, but also numerous functions, including:
Above ground: urban planning and development, architecture, historical monuments and park planning.
City transport: trams, buses, bicycles, autos, trucks and pedestrians.
Rail infrastructure operation: maintenance, train operation, rider flows, security, safety and service disruptions.
Underground: tunnel construction, rail installations, geology and geologic technology.
Transversal functions for information, communication and participation: public affairs, stakeholder management, participation, crisis management and negotiation management.
S-Bahn project manager Chaumet said that Basel's trinational S-Bahn seeks to offer a unified set of services in the three countries. Ultimately, he said, trains will run on 5-to-10 minute intervals in the inner zone and on 15-minute intervals in the outer zone. The new network will save many riders up to 10 minutes.
Andreas Meyer, CEO of Swiss Federal Railways, said he liked the proposal to put part of the University of Basel in Liestal, Basel-Landschaft's capital, as this would help balance train loads between there and Basel.
Financing the Herzstück
Basel hopes to get much of the financing for the Herzstück from the Swiss federal government.  In 2014, Swiss voters approved a law to finance and develop rail infrastructure (FABI). It includes a programme for the strategic development of rail infrastructure (STEP). By 2018 or 2019, the Basel area hopes to persuade the Swiss parliament to vote the Herzstück project into the STEP for 2030.
Each of Switzerland's six planning regions have already submitted plans for rail improvements. Together, they would cost several times the budget foreseen by the Swiss parliament. Florian Landolt of the chamber of commerce of the two Basel cantons said that like each of the other planning regions, the cantons of Northwestern Switzerland must speak with a single voice. This is a challenge.
If the Swiss federal government agrees to fund Basel's Herzstück, but at a later date, Basel is ready to arrange pre-financing so the project can proceed sooner. Zurich used pre-financing to build their latest cross-city rail tunnel, which opened in 2014.
The Swiss customarily help pay for rail network improvements outside Switzerland's borders from which they benefit. An example is the 2.8-km cross-border extension of Basel tram line 8, which opened in December 2014 and of which some 1.9 km is in the German town of Weil am Rhein. German local and state governments paid CHF 22 million Swiss francs of the project's CHF 104 million and the Swiss federal government and the canton of Basel-Stadt split the rest.
Given that prices and wages are lower in France and Germany than in Switzerland, critics charge that Swiss financial help for public-transport projects in those counties subsidises cross-border shopping and commuting, and thus hurts Basel workers and Basel businesses. Proponents of such cross-border financing argue that (1) given the current open borders, these flows will occur in any case and need to shift from cars to public transport to reduce road traffic in and near Basel, and (2) the efficient movement of consumers and workers within a metropolitan area fosters economic growth that benefits everyone.
Thomas Staehelin, president of the chamber of commerce of the two Basel cantons, said the Herzstück cross-city tunnels enabling the tri-national S-Bahn will bring 160 CHF million "added value" per year.
The dilemma of fares
A related problem is setting fares for cross-border services. Today, single tickets and monthly passes cost more in the two Basel cantons than in neighbouring France and Germany. The popular monthly Umweltabonnement, or environment pass, is good on all public transport throughout both Basel cantons. A monthly pass for cross-border trips involving Switzerland and France or Germany is available but more expensive.
Some have proposed splitting the two Basel cantons into pass zones. A pass good for longer trips would then be more expensive and better reflect the cost of providing them. But such zoning might push some residents in Basel-Landschaft with longer commutes into their cars and reduce political support for the Herzstück cross-city tunnels.
Basel's cross-border tram lines
Erich Lagler, director of the Basel public-transport agency BVB, presented the city's experience with and plans for cross-border tram lines. In 1900, Basel built a first cross-border line northwest into the neighbouring French city of Saint-Louis, which at the time was German and known as Sankt-Ludwig. Another line northeast into the still-German city of Lörrach followed in 1919. Service to Saint-Louis ended in 1957 and to Lörrach in 1967.
In December 2014, the BVB extended its number 8 tram line 2.6 km into the German city of Weil am Rhein.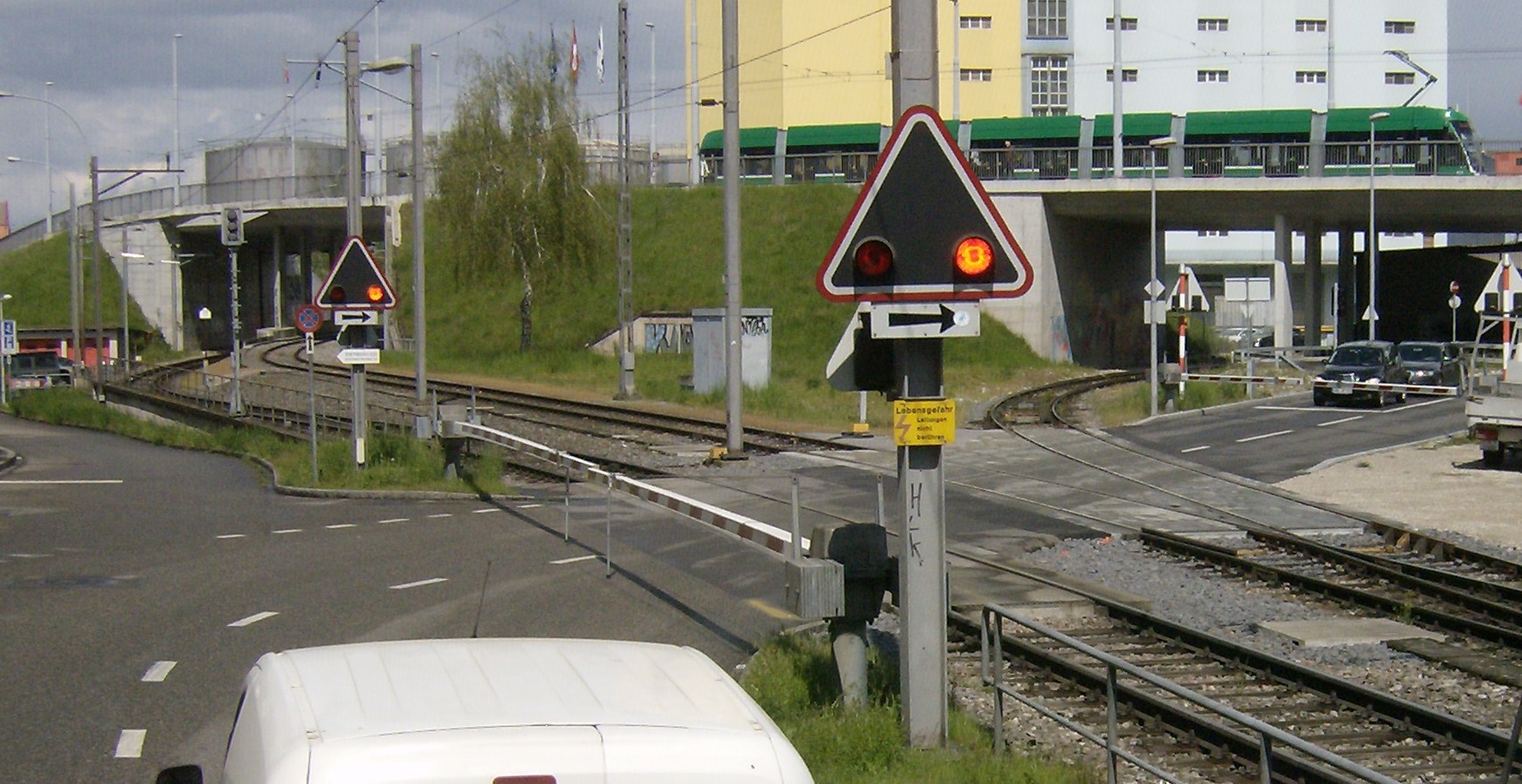 A green tram of Basel line 8, which was extended into Weil am Rhein in Germany in December 2014, passes on its new bridge over freight tracks within the port of Basel. George Raymond photo, April 27, 2016.
Lagler said that line 8 has had problems of late running and overcrowding and that its operation is still not stable. It doubled passenger counts on public transport to Weil am Rhein, to which only buses ran previously. Route 8's riders are 10% commuters, 40% leisure-time travellers and 50% shoppers. Most of the shoppers are Basel residents taking advantage of lower German prices. But domestic traffic within Weil am Rhein is also significant.
The BVB cut tram headways on line 8's German extension from 15 to 7.5 minutes on Saturday afternoons in February 2015 and in the evening rush in December 2015, Lagler said. The extension's headways at other weekday times and on weekend evenings have been cut from 30 to 15 minutes.
Lagler outlined the steps his agency has been taking in Weil am Rhein to increase line 8's on-time performance:
Deployment of people on the ground to guide riders.
A longer scheduled wait for each tram at the end loop in Weil am Rhein, which meant assigning an extra tram to the route.
Longer scheduled transit times between stops.
Lengthening the part of the route where a tram is in its own pathway, free of road vehicles.
Signs directing cars to parking garages.
Changes to traffic lights to keep waiting cars from blocking the tram.
The BVB's second cross-border tram will be line 3. Its 3.1-km extension to Saint-Louis railway station in France is to open in December 2017. A special challenge on line 3 is the need for all BVB workers with customer contact to speak French. This includes not just tram drivers but also clerks in the central Basel ticket office and employees who intervene in case of disturbances either in the field or with public-address announcements from the control centre.
A rail line to Basel's airport
Basel's EuroAirport (EAP) is located in France near Basel but is divided into French and Swiss halves. EAP's passenger count makes it France's seventh-busiest airport. Since 2000, this count has increased by 87%, more than at any of the other six. It is also Switzerland's third national airport after Zurich and Geneva.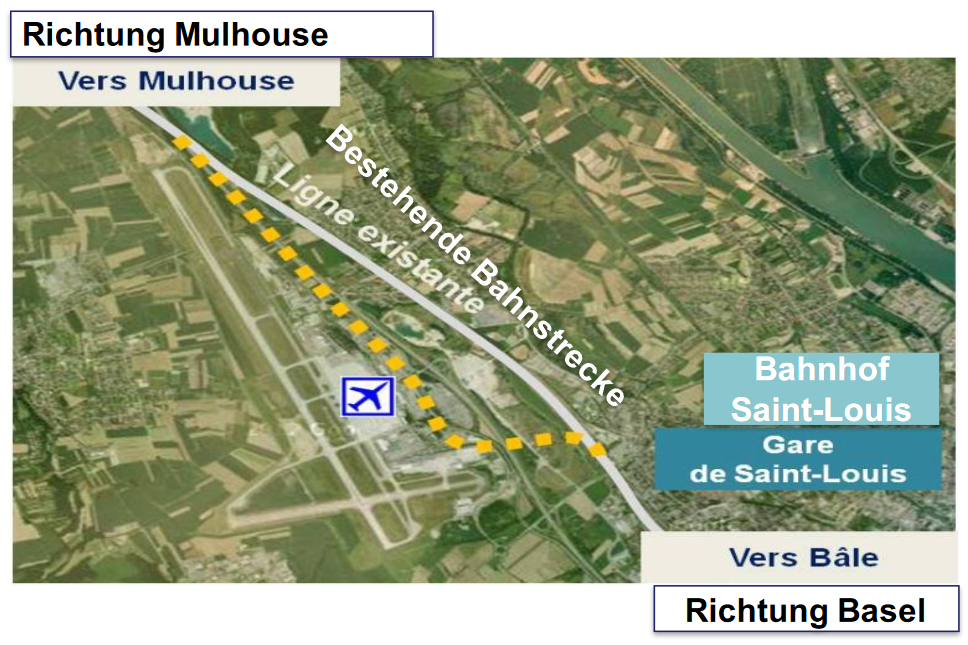 The new rail line to the Basel area's EuroAirport, which could enter service by 2023. It will run parallel to and southwest of the existing Basel-Mulhouse line, on which TGVs will continue to pass non-stop. Luc René Gaillet presentation.
Luc René Gaillet, project director for the rail line to airport, said that the contracting client for the new line is French National Railways (SNCF) and that financing is expected from both France's Grand Est region and the Swiss federal government.
Gaillet said that whereas the airport wants to increase its passenger count, the objective of the rail link is to increase public transport's modal share. For plane passengers, he said, this share is expected to increase from 30% without the rail link to 43% with it, and for airport workers from 17% to 27%.
He said that the long-term goal is 10 trains per hour from Basel to the airport. When the rail link opens, it will first be served by:
Two S-Bahn trains per hour from Basel to the airport.
Two stopping trains (TERs) per hour from Basel via the airport to Mulhouse
Two limited-stop TER 200s running at 200 km/h every hour from Basel via the airport and Mulhouse to Strasbourg.
Freight trains and TGVs will continue to run non-stop between Mulhouse and Basel and bypass the airport on the parallel, existing line. Rail passenger service to St-Louis-la-Chaussée, northeast of the airport on the existing line, faces an uncertain future.
Gaillet said that Philippe Richert, president of France's Grand Est region, wants all trains serving the airport to also stop at the French city of Saint-Louis on the line from Basel. This will offer an interchange with Basel's tram 3.
The airport rail link will allow one-seat train service from Basel SBB, Mulhouse and Freibourg im Breisgau and a one-hour trip from Strasbourg, Gaillet said. Plane passengers coming from Basel will get to the airport 10 minutes and from Mulhouse 20 minutes faster than via today's buses. According to the current route map for Basel's future tri-national S-Bahn, plane passengers arriving on the Lörrach and Waldshut lines will have to change trains at Basel SBB.
Both the departure and arrival levels of EuroAirport's central airport terminal will be extended north-eastward to provide direct train access. The area between the rail station and the existing motorway will be reserved for a multi-story parking garage and other planned and "densified" uses.
A financing plan fixed on April 12, 2016, provides €4.6 million for preliminary planning of the airport line. The study is being financed 38% by the Swiss Federal Office of Transport, 28% by the European Union, 11% by the French and Swiss halves of the airport, and the rest (23%) by national, regional and departmental levels of the French government and the Mulhouse metropolitan area.
A campaign of communication and discussion with the local population was conducted in 2013, with public meetings in Basel, Saint-Louis, Mulhouse and Lörrach. (This writer missed only Mulhouse.)
After completion of preliminary studies in 2016-2017, Gaillet said, acquisition of financing in 2017, conclusion of the formal public enquiry and impact study in 2018 and detailed planning in 2018-2019, construction could start in 2020. On March 2, 2016, the Basellandschaftliche Zeitung reported Gaillard's statement that the new link would cost about €220 million and could enter service in 2023-2024.
Swiss Federal Railways CEO Andreas Meyer said that the airport line needs the same tri-national commitment as the Herzstück cross-city tunnels because both are part of the Basel's tri-national S-Bahn.
Calls for other rail development work in the Basel region
Representatives of local French, German and Swiss chambers of commerce promoted other rail infrastructure projects in the tri-national region such as:
upgrading the line between Mulhouse (France) and Müllheim (Germany),
re-opening the line between Colmar (France) and Freiburg im Breisgau (Germany), whose Rhine bridge was bombed in World War II,
building the last gaps in the Rhine-Rhone high-speed rail line to gain 8 minutes for passengers and to free capacity on the parallel legacy rail lines for freight and
building a third rail tunnel through Switzerland's Jura mountains.
The viewpoint of SBB's passenger division
Jeannine Pilloud, head of passenger services for Swiss Federal Railways (SBB), recommended comparing Basel with the other Swiss zones with rail border crossings, including around Geneva and along the Jura mountain range (to eastern France), in the Schaffhausen-Bodensee area (to southern Germany) and in Ticino (to northern Italy). She showed a puzzle diagram with nine interlocking challenges that planners of a cross-border train service must meet: quality, infrastructure, service offering, regulation, employees, financing, culture, fares and governance.
Particularly challenging, Pilloud said, were cross-border differences on how to measure train punctuality, accessibility standards for people with reduced mobility, and pay and conditions for rail employees. She pointed out that Basel and Lucerne's cross-city tunnel projects will be competing for Swiss federal funds.
Jeannine Pilloud, head of passenger service for Swiss Federal Railways (SBB) and Peter Spuhler, owner and CEO of train builder Stadler at the Basel rail conference on April 26, 2016. Bahn-Kongress bk16 photo.
The viewpoint of Swiss rolling-stock builder Stadler
Peter Spuhler, owner and CEO of rolling-stock builder Stadler, said his company has some 7000 employees, including about 3000 in Switzerland. He cited a range of examples of non-standardisation in rail vehicles. Differing standards for rail-head profiles, he said, make the same rail vehicle behave differently on different European countries' tracks. The French require that trains withstand a longitudinal force of 200 tonnes, whereas the EU standard is 150 tonnes. Spuhler also cited requests for trains for three different platform heights in Israel; for bulletproof windows in the US; and for the re-design of trains' brake system six months before entering service on the Berlin S-Bahn so they could carry more standees.
Spuhler pointed out that buses – which increasingly compete with trains for inter-city passengers in Europe – are not held to the same standards as trains in terms of hurricane, crash and fire resistance or protection against running red signals.
He said that Stadler has abundant experience with tri-national solutions. He described the extreme complexity of certification of new trains today at all levels of each country where the train is to run and reminded his listeners that somebody has to pay for it. He said that the need for cross-acceptance of a new train in several European countries can delay its development.
Spuhler, himself a Swiss parliament member until 2012, said that the parliament has become more practical and now seeks a good allocation between public transport and autos instead of pitting them against each other as in past years.
Geneva's CEVA cross-border rail link
The new CEVA rail line is slated to link Geneva's main station and the French city of Annemasse by 2019. CEVA deputy director Davide Calderara said that public transport's market share for commuters coming to Geneva from the Swiss canton of Vaud is 33% and for cross-border commuters from France 8%. But both public-transport shares are growing.
The growth of commuter flows between 2002 and 2011 and the market share of public transport from the Swiss canton of Vaud and from the French communities that otherwise surround Geneva. Davide Calderara presentation.
Calderara said the new CEVA cross-city route will run in 3.7 km of tunnels and 3.6 km of open trenches. The ground beneath Geneva is silt and clay, not rock, which makes it difficult to prevent buildings above tunnels from settling. Four of the five new CEVA stations in Switzerland are underground but three will admit sunlight. The line crosses the Arve River on a bridge. The Swiss 15kV supply will power trains all the way to Annemasse.
Geneva's new cross-city rail link to the city of Annemasse, France. Davide Calderara presentation.
The part of the CEVA line in Switzerland will cost CHF 1.6 billion, of which 56% will come from the Swiss federal government and 44% from Geneva. Calderara described the symbiosis between the line and real estate projects, including both housing and offices.
The new link between Geneva and the French city of Annemasse will form the central trunk for a variety of rail services within the Geneva metropolitan area. Davide Calderara presentation
Swiss Federal Railways' Jeannine Pilloud said that the CEVA required a common vision – and a need for compromises such as the decision against a standard train fleet.
Ticino's cross-border rail link with Italy
Martino Colombo, chief of the mobility section of the Swiss canton of Ticino, said that Ticino has a population of 350,000 and offers 230,000 jobs, of which 62,000 or 27% are held by cross-border commuters from Italy. Just 15% of the mountainous canton's land area has 85% of the population and 90% of the jobs.
The standard-gauge rail network of the Swiss canton of Ticino and major projects. Martino Colombo presentation.
Major current rail projects in Switzerland's Italian-speaking canton of Ticino include the Ceneri basis tunnel north of Lugano on Europe's busiest north-south railway corridor, Lugano's cross-city tram-train tunnel and a new S-Bahn line between Varese (Italy) and Mendrisio (Switzerland).
Colombo said that the goal of the cantonal government is to offer public transport service between and within urban zones on intervals of 7.5 to 15 minutes and on 30-minute intervals in the main valleys. The 15-km Ceneri base tunnel, which is to open in December 2020, will carry international and intercity trains, but also be part of a new S-Bahn link between Lugano and Locarno. Colombo also described an H-shaped train-tram plan with a cross-city tunnel west of Lugano that could open by 2025.
The role of the new Varese-Mendrisio rail link (Servizio progettato) in the Milan metropolitan area's rail network. The top white area is Switzerland's Ticino canton. Martino Colombo presentation.
The new 18-km S-Bahn line between Varese (Italy) and Mendrisio (Switzerland) will speed travel from Ticino via Gallerate to Milan's Malpensa airport and western Switzerland. 11.1 km of the line's track are in Italy and 6.6 km within Switzerland, including 5.7 km of new line between Arcisate and Stabio.

The new rail link between Varese (Italy) and Mendrisio (Switzerland). Martino Colombo presentation.
Construction began in 2008. The Swiss section between Mendrisio and Stabio opened in December 2014. The rest of the new line from Stabio to Arcisate is slated to open in December 2017, Colombo said, but this is uncertain, as some parts of the line, including the site of Gaggiolo's underground station, are still green fields. Colombo said that neighbours have had to live with the line's construction for too long.
The new rail line between Arcisate and Stabio is supposed to open in 2017, but some parts of the route in Italy are still green. Martino Colombo presentation.
Colombo said the line faces a number of challenges:
Train attendants are required in Italy but not in Switzerland; drivers must be interoperable; customs inspections must be possible.
In the absence of a border station, trains must switch between the Italian and Swiss power supplies and signal systems on the roll.
As on Basel's cross-border lines, ticketing is a problem. The two adjacent regions have different fare systems, price levels and ticket distribution systems. The goal is unified monthly and annual passes and single-trip tickets distributed on both sides of the border.
New Swiss financing law for rail infrastructure
Peter Füglistaler, director of the Swiss Federal Office of Transport (FOT), said that the law on financing and development of rail infrastructure (FABI), which Swiss voters approved in February 2014, has brought more transparency and participation of cantons by way of planning regions. One of the six planning regions is Northwest Switzerland.
Switzerland's six planning regions, including Northwest Switzerland (NWCH). It comprises the cantons of Aargau, Basel-Landschaft, Basel-Stadt and Solothurn, and parts of the cantons of Bern and Jura. Peter Füglistaler presentation.
The Northeast Switzerland planning region has three main foci:
The Basel area, including Basel's tri-national S-Bahn, Basel's cross-border trams and the 13-km line from Basel-Landschaft's capital, Liestal, to Waldenberg. (Author's note: To lower long-run infrastructure and rolling-stock costs, this line will widen its gauge from 750 mm to the "standard" metre gauge of most other narrow-gauge Swiss railways by 2022.)
The Basel-Delémont-Biel route, including the Delémont-Delle and Moutier-Solothurn branches. (Author's note: While the Delle line may host restored service to Belfort in France, the main tunnel between Moutier and Solothurn needs a possibly unaffordable refurbishment.)
A range of rail projects in the canton of Aargau.
FABI allows the financing for projects to be known from the start, Füglistaler said. Passenger movements within metropolitan areas are growing much faster than intercity movements. The focus of planning is therefore shifting to metropolitan areas and to more local involvement. Füglistaler said that the Wisenberg Tunnel from Liestal to Olten, which would mainly benefit intercity services, would cost CHF 5.6 billion. Basel's tri-national S-Bahn, including the Herzstück cross-city tunnels, is priced at CHF 2 billion.
Füglistaler presented the FABI planning process.
Transparency

The planning process has been documented
Planning principles have been defined
The process for evaluation and prioritisation of projects has been published

Participation

Six Swiss planning regions
Freight sector

Infrastructure financing clarified

A clear border between maintenance and further development of the rail infrastructure
Equal treatment for all involved companies (including track and train operators)

Clear distribution of roles

The principle that a public entity orders public transport services from companies is now a reality
The FOT serves as a single point of contact for Swiss rail infrastructure operators, including the Swiss Federal Railways and the other, smaller operators

Role of the Swiss federal government

Leads the planning process
Is responsible for policy planning for intercity rail passenger and all rail freight services
Integrates all transport needs
Evaluates and prioritises rail infrastructure development
Plans the development steps

Role of the six Swiss planning regions

Lead planning of regional transport services
Serve as contact points for the Swiss federal government
Participate in the iterative planning process
Together with the FOT, lead the transport companies in developing service and infrastructure modules

Conclusions: under the FABI law

Roles and tasks are clear
A planning process with broad-based support; stronger role of the regions
Metropolitan areas gain importance
Basel's cross-city tunnels will be examined in the context of the STEP program for 2030.
Füglistaler said that a Swiss planning region needs to concentrate on one project to be successful. The FOT has to decide which regional projects are more important to the Swiss Federation. On May 13, the FOT was to announce a first prioritisation under FABI.
Füglistaler recommended that his listeners "not wait for the self-driving car and see how it takes over".
German transport policy and the viewpoint of Baden Württemberg
Uwe Lahl, of the ministry for transport and infrastructure of the German state of Baden-Württemberg, said he knew of no other case of a tri-national S-Bahn in the world. For Basel's tri-national S-Bahn to work, he said, borders will have to stay open – an allusion to political efforts to restrict movements across Europe's borders in the face of foreign workers, refugees and terrorist threats.
Lahl said that the German federal government will finance a 60-minute interval on a rail line with 5000 with riders a day and a 30-minute interval on a line with 10,000 riders a day. If a German region wants to provide more frequent service, it has to pay.
Germany is now expanding its main line north of Basel to four tracks. Local opposition against train noise has delayed the work and will, for example, require a €3 billion tunnel to keep Offenburg quiet. By 2030, Lahl said, four tracks on the entire route from Karlsruhe to Basel and Basel's Herzstück tunnels will allow reducing the current 60-minute train interval to 30 minutes.
Christian Junker, chairman of the transport committee of the chamber of commerce and industry of Germany's southern Upper Rhine area, said that the German federal transport infrastructure plan to 2030 is not legally binding and does not cover financing. And not all rail projects are planned. He called Switzerland's railway infrastructure fund a good model for Germany.
Junker said that Switzerland is building rail infrastructure 20 years ahead of Germany because Germany sees costs, not benefits. In Germany, he said, unspent public money must be returned to the treasury at the end of year.
Electrification of Germany's Basel-Schaffhausen line
Another project of importance to the tri-national Basel area and its S-Bahn is the electrification of the 94-km Basel-Schaffhausen line via the north bank of the Rhine. Operated by Deutsche Bahn, the line runs from Basel's Badischer station via the Rhine's German north bank to the Swiss canton and city of Schaffhausen. The line is non-electrified on the 75 km from Basel east through Germany to the border town Erzingen and electrified on the 19 km on Swiss soil from there to Schaffhausen. The line is double track except for the 20-km section west from Erzingen to Waldshut .
Georg Keitel, of the ministry for transport and infrastructure of the German state of Baden-Württemberg, named the following rationales for electrifying the Basel-Erzingen section for an estimated €160 million:
Electric trains from Schaffhausen can run directly into Basel's Herzstück cross-city tunnels and form an integral part of S-Bahn services in Basel.
Direct trains become possible from Basel via Schaffhausen to St. Gallen in northeastern Switzerland.
Environmentally friendly electric trains replace diesels.
Trains will accelerate faster and thus offer shorter trip times.
The Basel-Erzingen electrification will create pressure to further extend wires from the Rhine northward to the German city of Ulm.
Keitel said that as a part of the national German rail network, the electrification may be eligible for up to 60% funding by the German federal government. Other funding sources are the Swiss federal government's Federal Office of Transport, the German state of Baden-Württemberg, and local Swiss cantons and German jurisdictions. These parties signed a declaration of intent in March 2016.
While waiting for electrification, gaps in the current service will be closed so that diesel-powered trains run hourly throughout the day, including on weekends. The German federal standard, Keitel said, is one train an hour. If local governments on the Swiss and German sides want a 30-minute interval, for example, they will have to pay for it.
The viewpoint of France's Grand Est region
Florian Weyer, head of strategic planning for transport and mobility of France's Grand Est Region, called Basel an "anchor point" for his region, which is bigger than Switzerland but has only 5.5 million inhabitants compared to Switzerland's 8.1 million. A 2014 reform that reduced the number of French regions from 22 to 13 took effect on January 1, 2016. The central French government is making the regions provide an ever-bigger part of their budgets, Weyer said, and the regions are struggling to gain decision-making power over this money. He said that the new regions will take over intra-regional public bus services from the much smaller départements. This will allow better coordination with the TER trains the regions already run.
Weyer emphasised the importance of the planned rail link between Basel and its airport. Getting the French National Railways and the transport authority RATP to work together in Paris is already hard, he said. Getting the railways of three counties to work together on Basel's tri-national S-Bahn could be even harder.
He also pointed out mixed trends for intercity rail passenger service between the Grand Est Region and Basel. Although TGV travel from Basel to Paris is now possible both via Dijon and (with a train change) via Strasbourg, conventional Paris-Belfort trains no longer continue to Basel, and the direct trains that had run for decades from Basel via Luxembourg to Brussels were discontinued in April 2016.
Christine Guillemy, vice president in charge of mobility and transport infrastructure of the Grand Est region council and the first woman mayor of Chaumont, pointed out that her city is in the west of the Grand Est. Given that her region borders on four other countries, she said, it is a link between Paris and Europe.
Guillemy said the Grand Est region needs to sort out the roles of the airports of Strasbourg and Basel-Mulhouse – and Châlons Vatry airport further west – so they are complimentary instead of competitors. The same applies for the region's waterways, she said.
Work on France's Basel-Strasbourg line
SNCF Réseau operates the French National Railways' network. SNCF Mobilités runs its trains. Thomas Allary, SNCF Réseau's director for the Grand Est, said that €400 million was invested in the rail corridor between Strasbourg and Basel between 2006 and 2015. The Basel-Strasbourg line is double track good for 220 km/h, with some triple track between Strasbourg and Sélestat. Devoid of level crossings, it sees some 300 trains daily, including TGVs bound for Germany, Switzerland, Paris via Strasbourg and via the Rhine-Rhone high-speed route to Paris and southern France.
Allary said the SNCF network "is old and getting older". The following work is scheduled on the Basel-Strasbourg line:
2016: €23 million of ballast and track work between Strasbourg and Erstein, with major impacts on train service.
2016: €3.2 million of work on track turnouts in Mulhouse station to reduce conflicting itineraries, lengthen station tracks and automate signalling.
2017: ballast and track work between Mulhouse and Saint-Louis, with major impacts on train service.
2018-2020: Addition of a fourth passenger track north of Strasbourg station to allow separation of TGVs (and passenger trains for Hagenau) from other passenger trains so each flow has its own tracks.
2020: Completion of installation of the European standard signalling system ETCS. (The line will receive ETCS Level 1, which retains lineside signals.)
Addition of a fourth electrical substation just north of Strasbourg and strengthening of two others to handle more trains.
Planning of improvements between Basel and Mulhouse to absorb extra traffic from the planned rail link to Basel's airport and the expansion of its S-Bahn network based on the Herzstück cross-city tunnels.
Track layout before and after SNCF Réseau's €3.2 million of work in 2016 on turnouts in Mulhouse (France) station to reduce conflicting itineraries, lengthen station tracks and automate signalling. Thomas Allary presentation.
Future trends and Basel's role
Lars Thomsen, a researcher on trends and the future, said that many trends have a tipping point analogous to the temperature at which corn grains in a pan suddenly all pop to produce popcorn. He said his focus is the coming 520 weeks. He asked whether anyone remembered the most popular app during the football World Cup of 2006, then pointed out that no apps existed then.
He forecast "the end of stupidity", saying that very soon, a program will learn about what you want to do instead of your having to learn how the program works. He said that his human assistant has learned to perform 90% of his tasks, but today's computer can't. But this will change within the next four years. This change will have the same impact as the invention of the steam engine around 1800, which replaced animal and human muscles.
Thomsen said that Uber is now worth twice as much as BMW and three times more than Volkswagen. He sees a market gap between taxis and public transport: self-driving cars. In the near future, he said, the interface between the robot automobile and public transport will be ever more important.
In the near future, Thomsen said, modes will compete on how well they let riders use travel time. He said that 7 out of 8 young people in Berlin and 1 out of 2 in Paris are not interested in getting a driver's license; Berlin's driving schools are dying out. Young people prefer to navigate with public transport. Beijing's bad air is forcing China to re-think mobility. Humane, attractive cities will attract the best talent. Life will become more humane and so will companies' cultures. Openness and social networking instead of hierarchy will be more important than salary level or a parking space in front of the door.
Thomsen said that he switched from autos and taxis to trains because of Swiss Federal Railways' timetable app. Even if vehicles are self-driving, he said, we will still need roads and tracks. The development of mobility in the Basel metropolitan area requires an organisation that operates as a social network, not a hierarchy. The important part of Basel's cross-city rail tunnels, Thomsen said, are its interfaces with the rest of the world. The Basel area and Switzerland have many smart people and owe the rest of the world a good example of three-country cooperation.
Swiss Federal Railways' passenger chief Jeannine Pilloud said that "the upheaval in the mobility market will occur in any case, with or without public transport".
Sven Hantel of Deutsche Bahn's Baden-Würtemburg area said that the railway will take its place in the chain of transport choices that the customer optimises with the help of an app.
Andreas Meyer, CEO of Swiss Federal Railways (SBB) said that Europe's new intercity bus services are just the start of the competition trains will face. He said that the freedom to board a Swiss train without the seat reservation required in French TGVs contributes to Switzerland's quality of life. SBB wants to join the movement towards robot cars to attain "self-driving public transport". Meyer noted, however, the lagging development of intelligent rail freight wagons.
Nicolas Perrin, Head of Swiss Federal Railways' SBB Cargo division, predicted that the intelligence of cars will spread to include railways. The quest for safety in robot cars will lead to as much regulation as for trains and planes, however. Just as important as Basel's cross-city tunnels or the Gateway Basel Nord terminal project for freight is the data and intelligence in the "cloud overhead".
George Raymond can be reached at graymond@railweb.ch.
© Copyright 2016 Railweb GmbH. All rights reserved.
Back to Railweb Reports