Posted by George Raymond on March 6, 2016
French company Lohr Industrie is now deploying what trucking companies have been dreaming of for decades: a wagon that can carry standard, 4-metre truck semi-trailers throughout the European rail network.
Traditionally, trucking companies who wanted to use rail intermodal services have had to adapt to the railway's restrictive clearances. This meant using either semi-trailers that stand less than 4 metres at their corners, or reinforced semi-trailers that a crane can lower into a wagon with deep pockets. But low trailers cut capacity. And reinforced trailers cost and weigh more than standard trailers and consume more fuel. All this has made rail intermodal services less attractive for trucking companies.
The terminal for Lohr wagons at Le Boulou, France, near Perpignan and the Spanish border. Each articulated Lohr wagon offers two pivoting cradles for standard European semi-trailers. Lohr photo, September 13, 2015.
Adapting rail to the customer

In contrast, the new Lohr UIC wagon offers a cradle that pivots 30 degrees so that a standard, 4-metre, non-reinforced semi-trailer can roll aboard on its own wheels. The cradle carries the semi-trailer just 22 cm above the rail to keep the trailer within the tight clearances of most European railway lines. This means that the Lohr UIC wagon can transport the 97% of European semi-trailers not reinforced for craning.
In Lohr's business model, this versatility will spark a virtuous circle of rising volumes, more frequent train departures and higher equipment productivity that will outweigh the Lohr wagons' added complexity and cost. SNCF subsidiary Viia will soon launch a 1400-km Viia Britanica intermodal service between Calais and the Spanish border that will put this model to the test.
Security measures in Calais delay the Viia Britanica launch
The Viia Britanica service was slated start on January 12, 2016, but as of March 6 has been delayed by French police pending additional security and safety measures in Calais, where many migrants are trying to reach the UK. [The service ran from March to July 2016; better security in Calais allowed it to resume on February 7, 2017. See our Railweb Report on that date.]
Lohr Industrie
Lohr Industrie is a private French group based near Strasbourg. Since its founding by Robert Lohr in 1963, the company has been designing, building and marketing automobile-carrying trucks and military logistics vehicles worldwide. In 2014, the group emerged from its part of the automobile sector's financial crisis. Today, Lohr runs seven plants on three continents and employs 1500, including 100 in research and development.
Semi-trailers on European flat wagons: a tight fit
The idea of transporting semi-trailers over long distances by rail, with local pickup and delivery by road, has long appealed to trucking companies. But clearances on European railway lines at tunnels, bridges, station platforms and station awnings are often tight. As defined by the International Union of Railways (UIC), the prevalent minimum loading gauge – which specifies clearances – is GB1. Only a very low railway flat wagon allows a 4-metre truck trailer to run on a GB1 line. And some lines through France and Switzerland are even more restrictive than GB1.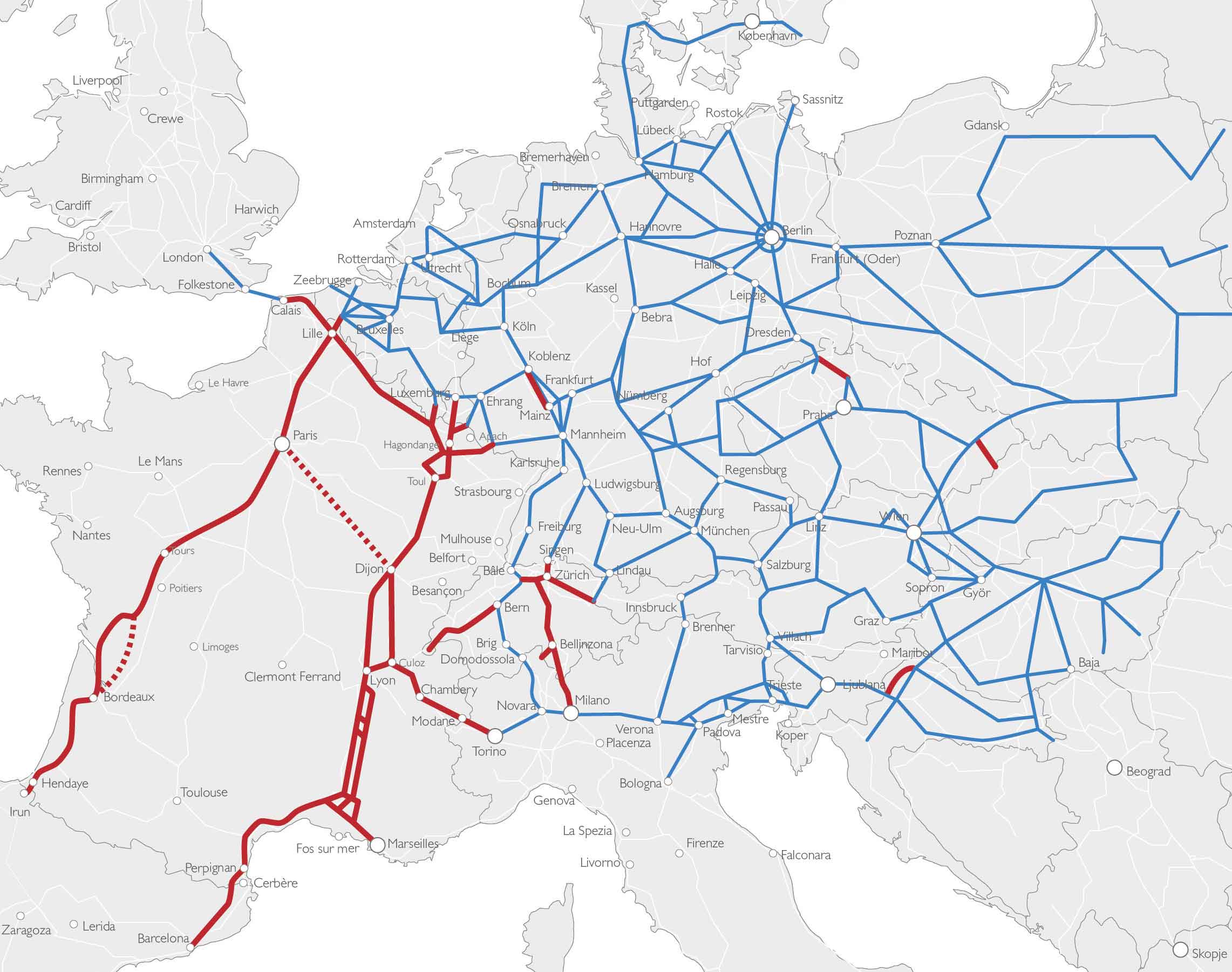 European main lines on which Lohr UIC wagons can carry 4-metre trailers. The blue lines have GB1 clearances or better and admit both Lohr UIC wagons and conventional pocket wagons. The red lines have less than GB1 clearances and admit Lohr UIC wagons but not conventional pocket wagons. Source: Lohr
The conventional solution: vertical loading
For many years, 4-metre semi-trailers have been able move on GB1 lines on special flat wagons with low pockets. A related classification is P400, which designates both the 4-metre height of crane-capable semi-trailers and the European railway lines whose clearances admit such semi-trailers in conventional pocket wagons. Lohr says that only about 50,000 or 3% of Europe's 1.8 million semi-trailers are reinforced for craning.
Why crane-capable semi-trailers are unpopular
Crane-capable semi-trailers are unpopular among trucking companies because they cost and weigh more than standard semi-trailers. A crane-capable semi-trailer has a roughly 2% higher price tag and about a 500 kg greater tare than a standard trailer. This reduces the trailer's maximum payload, and increases fuel consumption on the road by some 0.5 litres per 100 km or about 1.5%.
The Lohr solution: horizontal loading
Lohr Industrie engineers set out to design a wagon that could carry the other 97% of standard European semi-trailers that are not reinforced for craning. The result was the articulated Lohr UIC wagon. It rides on three bogies. Two pivoting cradles between the bogies each carry a 14-metre semi-trailer. The design offers 28 metres of loading space on a 33-metre wagon.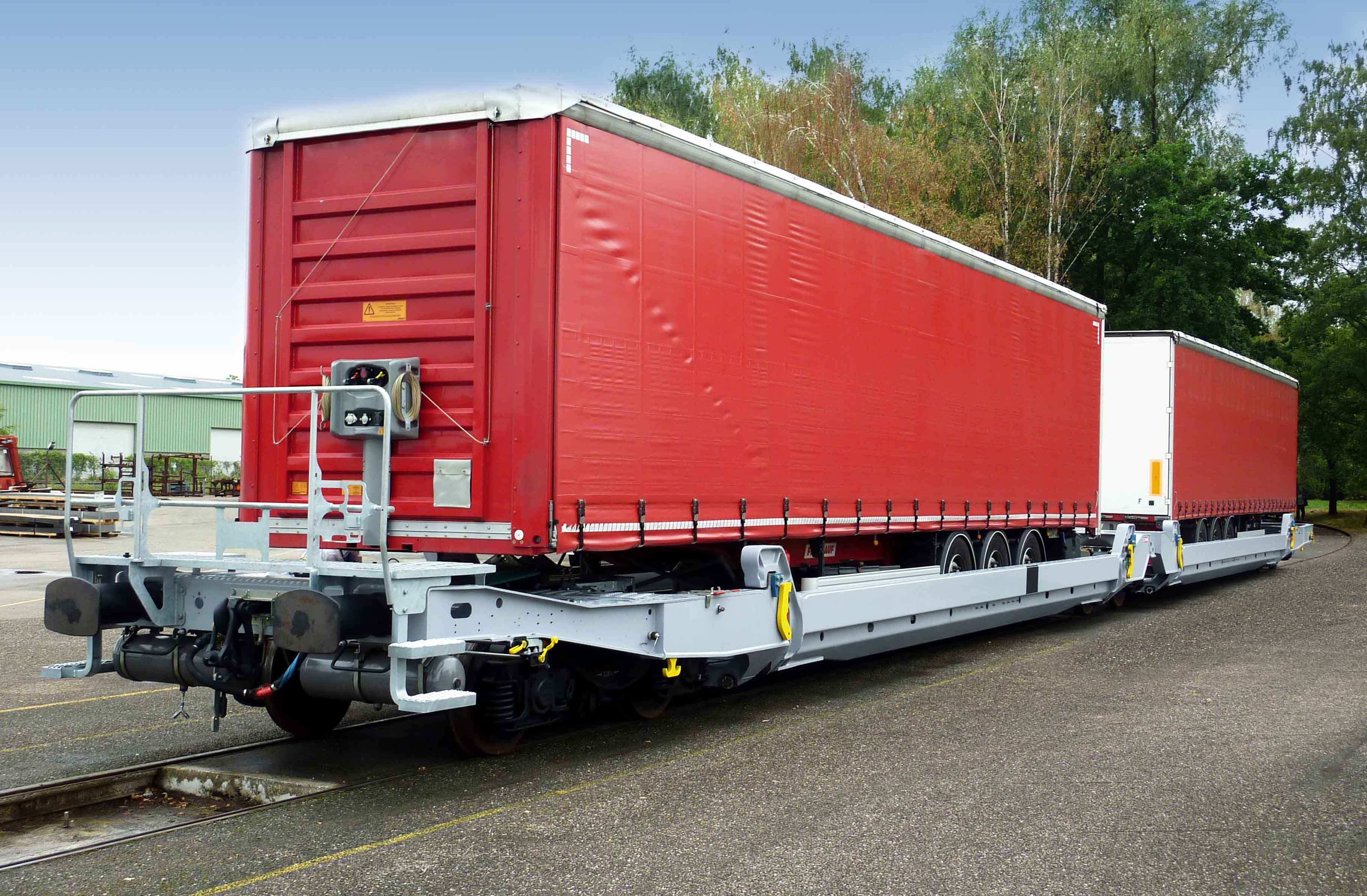 An articulated Lohr UIC wagon and two standard semi-trailers. Lohr photo
Depending on order size, a Lohr UIC wagon for two semi-trailers costs €350,000 to €400,000, compared to about €200,000 for a comparable articulated wagon with fixed pockets.
Compensating for more expensive wagons
In the Lohr business model, the Lohr UIC wagon compensates for its higher purchase price by accepting all standard trailers. In contrast, the conventional pocket wagon is limited to the 3% of European semi-trailers that are reinforced for craning. This much larger pool of potential customers promises Lohr higher traffic volumes able to support more frequent departures.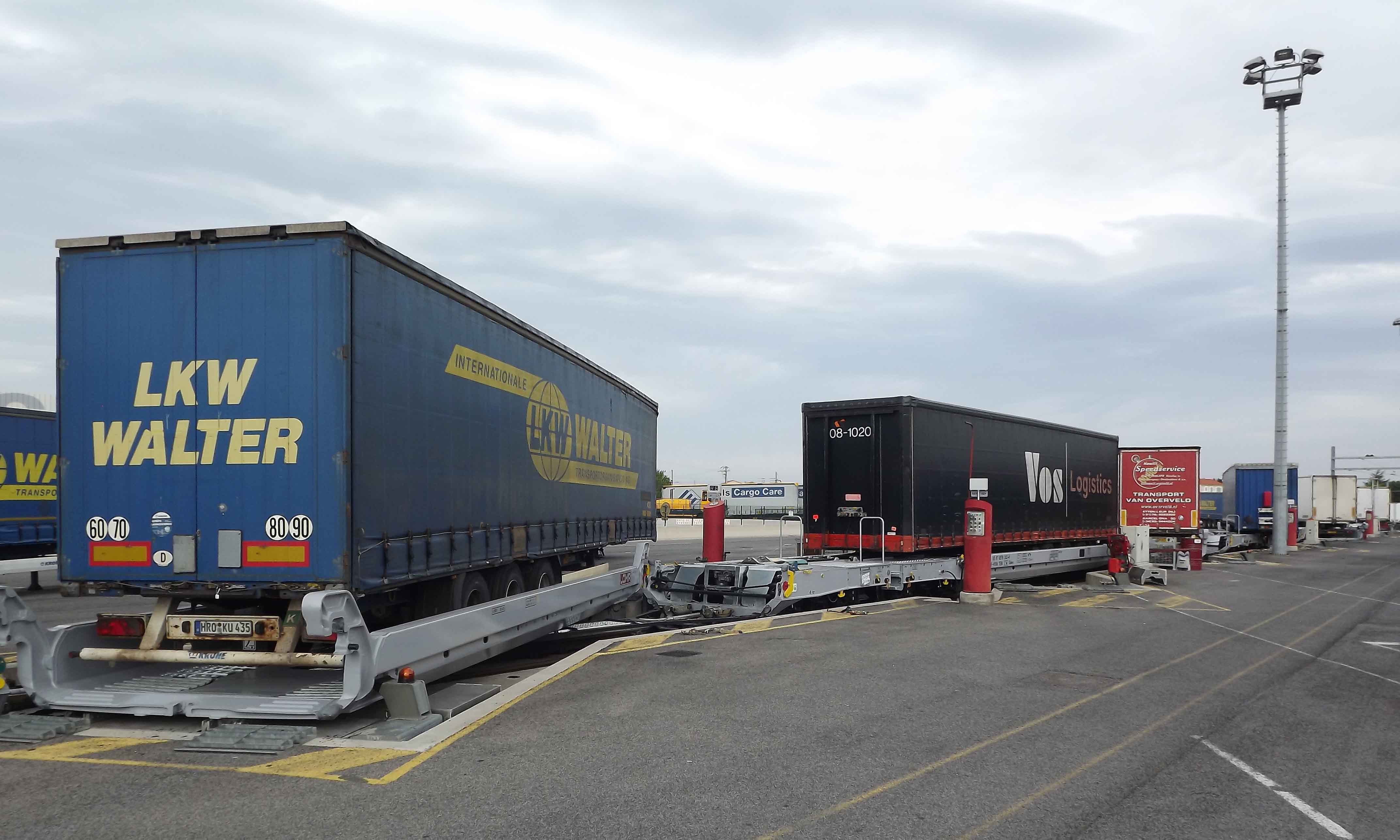 Loaded Lohr UIC wagons at the Le Boulou terminal with one cradle in travel position and the others pivoted for unloading and loading. Lohr photo, September 13, 2015.
The Lohr system also allows faster loading and unloading in terminals. Lohr believes that these advantages will allow Lohr wagons to achieve higher utilisation – i.e. run more kilometres per year – than conventional pocket wagons that typically make only one run per day. In Lohr's business model, the versatility of the Lohr UIC wagon will spark a virtuous circle of rising volumes, more frequent departures and higher equipment productivity that will outweigh its added complexity and cost.
Mega-Trailers
Lohr UIC wagons can also handle the Mega-Trailers that trucking companies have developed to deliver parts for the automobile industry. Whereas a standard trailer rides on 22-inch tyres and offers an inside space 2.7 metres high, the Mega-Trailer rides on 19-inch tyres and offers 3 metres of height for three standard auto-parts containers.
In some cases, in addition to semi-trailers, trucking companies may wish to load containers or swap bodies on trailer frames and transport them on Lohr lines if a Lohr terminal is close by.
Very little wiggle room

A Lohr UIC wagon carrying 4-meter semi-trailers can travel on any line with UIC GB1 clearances or better. It can thus run on most any main European railway line. However, tight clearances at the top and bottom corners leave very little wiggle room.
The Lohr UIC wagon's predecessor was the Modalohr wagon, which has been in everyday use since 2003 on the Alpine Rail Motorway between Chambéry, France, and Turin, Italy, and since 2007 on Lorry-Rail's rail motorway between Bettembourg in Luxembourg and Le Boulou.
Like the newer Lohr UIC wagon, the Modalohr's cradle pivots for loading and ensures overhead clearance for a 4-metre semi-trailer. But a heavily loaded trailer depresses a Modalohr wagon's springs so much that the cradle would violate standard clearances at the wagon's bottom corners. This forced modification of some station platforms on Modalohr routes.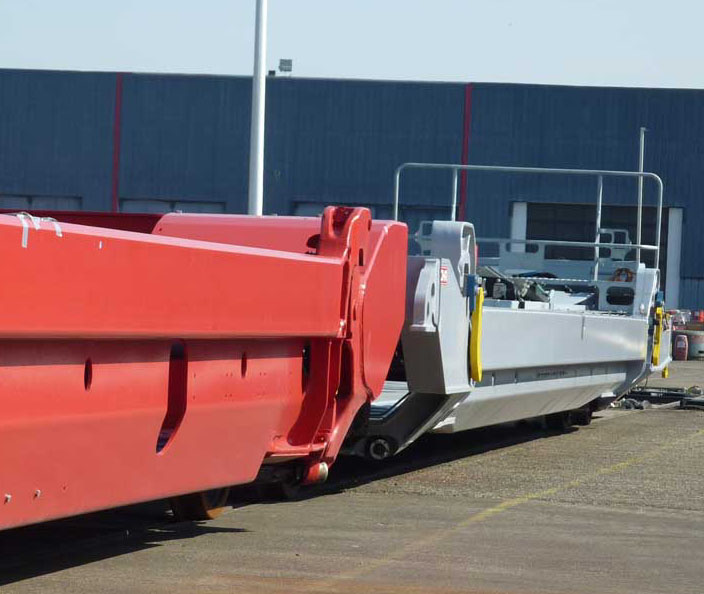 The more protuberant profile of the older Modalohr wagon (left) and that of the Lohr UIC wagon. Lohr photo
The designers of the newer Lohr UIC wagon solved this problem by tightening the cradle's profile and making its height adjustable relative to the wagon.
Compensating for wagon spring compression to keep each trailer at the right height
A heavily loaded semi-trailer depresses a wagon's bogie springs more than a light trailer does. Cams on the Lohr UIC wagon therefore allow a worker at the outbound terminal to adjust each cradle's height to compensate for the semi-trailer's weight so as to maintain GB1 clearance at both the top corners of the semi-trailer and the bottom corners of its cradle.
As they enter the terminal, tractor and trailer pass over a scale. The terminal system subtracts the tractor's weight – usually about 7 tonnes – as stated on its vehicle registration. A display stand at the trailer's assigned loading station shows the proper cam setting for the trailer's cradle – high, medium or low – and a worker sets it. The low and high settings differ by 3 cm.
Before the train's departure, an employee of the railway undertaking in charge of running the train – currently Fret SNCF for the Viia Britanica service – checks cradle-height settings, brakes, trailer tie-downs and cradle pivot locks.
Wheel wear can also create clearance problems. The Lohr UIC wagon thus allows insertion of spacers between axle bearings and bogie frames to compensate.
Developing these features was part of the €10 million Lohr Industrie spent developing the Lohr UIC wagons on the basis of the older Modalohr model.
The terminal equipment for Lohr wagons in Calais before the terminal's October 2015 inauguration, including the eight rollers that pivot a wagon's cradle. Photo Lohr
Terminal operations
In addition to special wagons, the Lohr technology also requires special terminal equipment. Devices built into the ground raise the cradle and semi-trailer out of its attachment points within the Lohr wagon. They then pivot the wagon's cradle 30 degrees. During its rotation, the cradle travels on eight ground rollers. The four innermost rollers, which touch the cradle during most of its rotation, are powered. After the inbound semi-trailer has rolled off and an outbound trailer on, the rollers pivot the cradle back into travel position, where a terminal worker locks it to the wagon's frame. This mechanisation reduces handling times to around 5 minutes per semi-trailer. The time to unload and load a Lohr train thus depends on the number of tractors, which may be the trailers' line-haul tractors or dedicated terminal tractors.
Tractors, parking and flexiblility

In conventional intermodal service, departures for a given destination are typically daily, so tractors and semi-trailers tend to be at the terminal only near times when a train is being unloaded and loaded. This is also expected at newly opened Lohr-system terminals that offer only one departure a day. Trucking companies' line-haul tractors will load and unload their own semi-trailers.
But the profitability of the Lohr system, with its more costly wagons and terminal infrastructure, requires more frequent departures. The objective is typically four departures a day from a terminal that is open 24 hours and has its own tractor. This prevents a trucking company's line-haul tractor from waiting: it can drop off a trailer for the next train departure and immediately pick up a trailer from the previous train arrival. The Lohr system's business model thus requires more parking space than conventional intermodal service.
Diagonal parking of trailers and Lohr wagons, their cradles ready for loading, at the terminal in Le Boulou. The red stand displays the correct cradle height (low, medium or high) on the basis of the trailer's weight as it entered the terminal. Lohr photo, September 13, 2015
Diagonal parking
In Lohr intermodal service, semi-trailers are parked diagonally. This gives tractors direct access to all semi-trailers. In conventional intermodal service, giving a tractor access to any semi-trailer requires parking them in two lines, parallel to the railway track. But each line then hampers access to the other.
Cost of terminal infrastructure
No matter whether it uses conventional vertical loading or Lohr's horizontal-loading technology, an intermodal terminal involves non-negligible investments. Whereas a conventional intermodal terminal needs about €400,000 for a reach stacker or €2 to €3 million for a portal crane, the Lohr terminal infrastructure costs some €200,000 for each station that can pivot a Lohr wagons' cradle.
A temporary monopoly for Lohr, but not for operators
Lohr has protected its wagon and terminal technology with 20-year patents granted between 2002 and 2013; until the patents expire, only Lohr wagons can use the terminals. This compensates Lohr for its development costs, which amounted to €10 million just to develop the Lohr UIC wagon on the basis of the earlier Modalohr model. But although these patents give Lohr wagons a temporary monopoly at Lohr terminals, these terminals are open to all intermodal operators using Lohr wagons.
Lohr believes that because its technology can handle any standard European semi-trailer, and allows fast and simple unloading and loading, it will appeal to many trucking companies and thus attract transport volumes that can typically support four departures a day. The resulting high wagon utilisation and high train load factors will compensate for the higher cost of the Lohr UIC wagon and its terminal infrastructure.
Viia Britanica
Under the banner Viia Britanica, SNCF subsidiary Viia was to launch its first rail motorway service between the port of Calais and Le Boulou in March 2016. The Viia Britanica service will allow trucking companies to avoid 1,200 km of road travel. It will be the longest service using Lohr Industrie's technology for rail transport of standard truck semi-trailers.
Integrating rail and ferry legs
Viia was created in 2012 by SNCF Logistics, itself a subsidiary of French National Railways (SNCF). Viia's vision is to offer integrated services for roll-on, roll-off (Ro-Ro) movement of unaccompanied semi-trailers combining both rail and ferry legs as required. Such services are also known as rail motorways and maritime motorways respectively. Viia Britanica is Viia's first service of this kind. Mainly aimed at semi-trailers travelling between the UK and Spain, it combines a cross-channel Ro-Ro ferry service and the Calais – Le Boulou rail link.
In late 2014 and 2015, Lohr delivered 105 Lohr UIC wagons for the Calais – Le Boulou service. They cost about €39.5 million. A Viia Britanica train consists of 20 articulated Lohr UIC wagons that can carry 40 semi-trailers. The trains measure 680 metres and weigh up to 2000 tonnes.
New Lohr-system terminal in Calais
A pivotal part of the Viia Britannica service is the new Calais terminal, which enables direct transfer of semi-trailers between Ro-Ro ships and rail for the first time in France. Lohr Industries built the new terminal in the port of Calais in 2015; this writer was present at the terminal's inauguration on October 23, 2015. Viia Britanica will lease and operate the Calais terminal. Dockers of the port of Calais will provide labour. The terminal can load and unload 10 wagons and their 20 cradles at once; two such cuts of wagons form a complete, 20-wagon Viia Britanica train.
The Le Boulou terminal near Perpiginan and the Spanish border on February 20, 2009. Photo Lorry-Rail
Like the new terminal in Calais, the older Le Boulou terminal at the other end of the Viia Britanica line can open all 20 cradles of a 10-wagon group simultanously. In August 2015, Lohr modified its ground equipment in Le Boulou to handle both the Modalohr wagons of Lorry-Rail's service to Bettembourg and the Lohr UIC wagons of Viia Britanica's service to Calais. Lorry-Rail runs up to four round trips a day between Le Boulou and Bettembourg; Viia Britanica will increase from one to two round trips a day between Le Boulou and Calais by autumn 2016. This will make full use of the 105-wagon Lohr UIC fleet. On both routes, frequencies depend on demand and also on the impact of the work projects of SNCF Réseau – France's main rail infrastructure operator – on path availability.
Financing the Calais terminal
The Lohr rail motorway terminal is the first stage in the strategy of the Port of Boulogne-Calais to develop tri-modal transport of unaccompanied semi-trailers.
Building the Calais terminal cost €7.0 million, of which €1.4 million came from the European Union's BRIDGE programme and the rest from the Port of Boulogne-Calais. BRIDGE stands for Building the Resilience of International and Dependent Gateways in Europe. It aims to adapt port infrastructures to the 40% growth in freight traffic forecast by 2030 on the Calais-Dover sea route.
Like most complex transport systems around the world, building the Calais terminal and launching the Viia Britanica service relied on a mix of public and private financing and initiatives. Although the French government did not help finance the project directly, Frédéric Cuvillier, then French transport minister, launched the project in 2013 and persuaded French infrastructure operator RFF (now SNCF Réseau) to return clearances on the rail line between and Calais and the Lorraine district to GB1.
Frequency ramp-up
Initially, the Viia Britanica service will run one round trip per day between Calais and Le Boulou. Taking advantage of line clearances and path availability, the train will run near Luxembourg via Longuyon and Toul. By autumn 2016, the second round trip will probably stop at the new Bettembourg-Dudelange terminal in Luxembourg to make connections with trains of Luxembourg National Railways' freight operator, CFL Cargo, for Germany and Italy. Within five years, Viia Britanica hopes to attain four round trips per day. This will give trucking companies flexibility approaching that of all-road movement.
Looking northwest in an artist's conception of the new Bettembourg-Dudelange intermodal terminal, set to open in September 2016. The A13 motorway is on the left and the existing marshalling yard is just out of sight on the right. Source: CFL
CFL Cargo's Bettembourg-Dudelange terminal: a Lohr hub
Two operators are currently developing Lohr lines: Viia, whose strategy is to develop individual lines, and CFL Cargo, whose strategy is to introduce Lohr trains in its existing network of intermodal rail lines radiating from a Luxembourg hub. Its new Bettembourg-Dudelange terminal, to open in 2016, will offer four 700-metre tracks for conventional vertical loading and two 700-metre tracks for Lohr-system horizontal loading immediately adjacent. CFL's plan is to mix conventional and Lohr wagons in its trains and progressively increase the Lohr share. The two Lohr-system tracks will offer capacity for up to 32 full Lohr trains a day.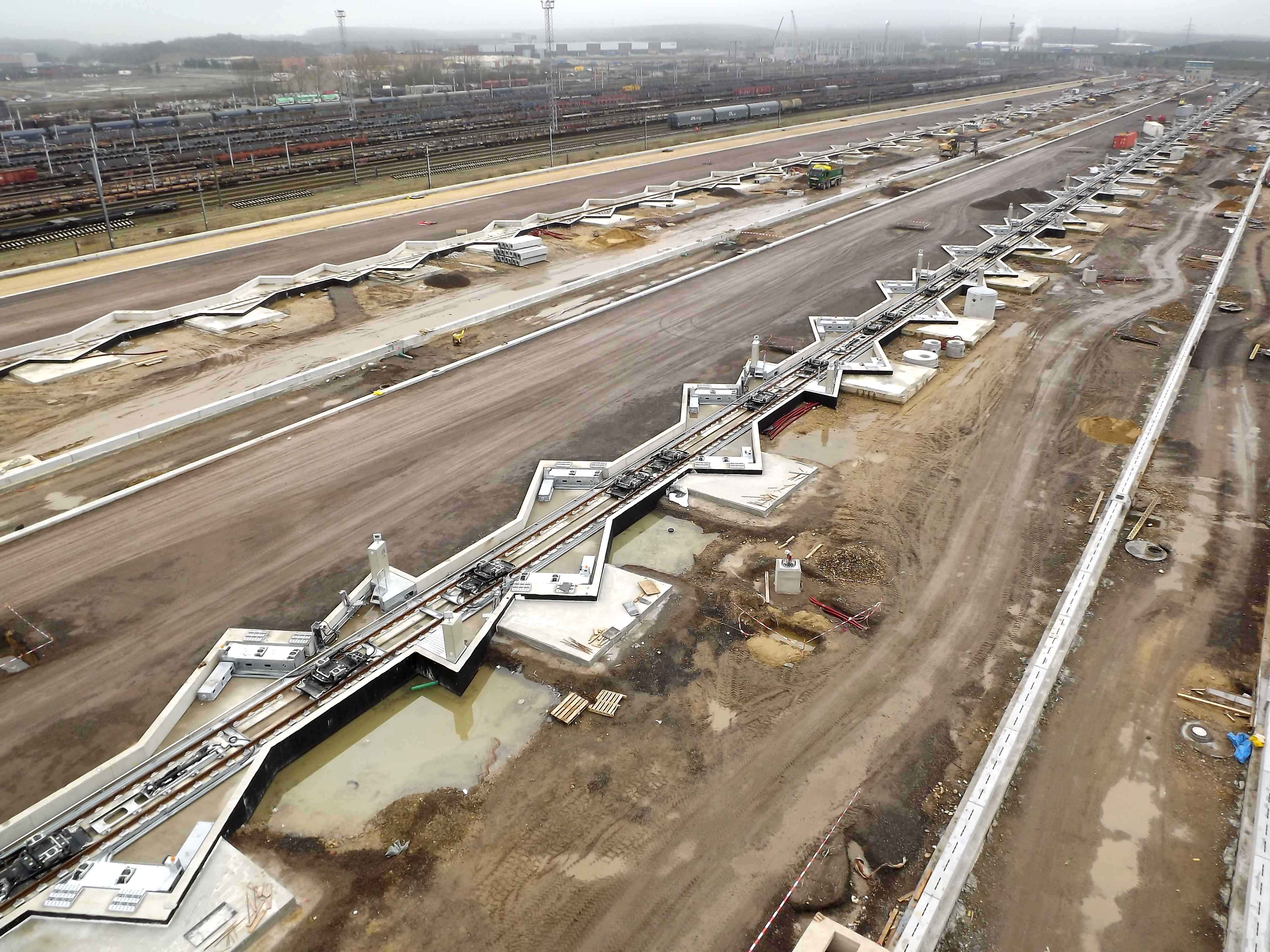 Another, grittier view of the Lohr part of the new terminal in Bettembourg-Dudelange under construction on February 24, 2016, this time looking southeast. The marshalling yard is in the background. Photo Lohr

Keeping Lohr UIC wagons productive while Viia Britanica ramps up
Not all of the 105 Lohr UIC wagons delivered in 2014-2015 will be needed immediately between Calais and Le Boulou. Viia has therefore sought temporary assignments. Since mid-October 2015, Viia has been running two trains a week from the port of Sète in southern France and Noisy-le-Sec near Paris for the Turkish trucking company EKOL. The trailers reach Sète on a Ro-Ro ferry. The involved terminals lack Lohr equipment to pivot the wagons' cradles. But Lohr wants to offer wagon lessors versatile wagons with good resale value if Viia were to go out of business. Lohr UIC wagons are therefore built to allow not just horizontal loading, but also vertical loading. On the line between Sète and Noisy-le-Sec, they thus carry 4-metre Mega-Trailers that are reinforced for craning.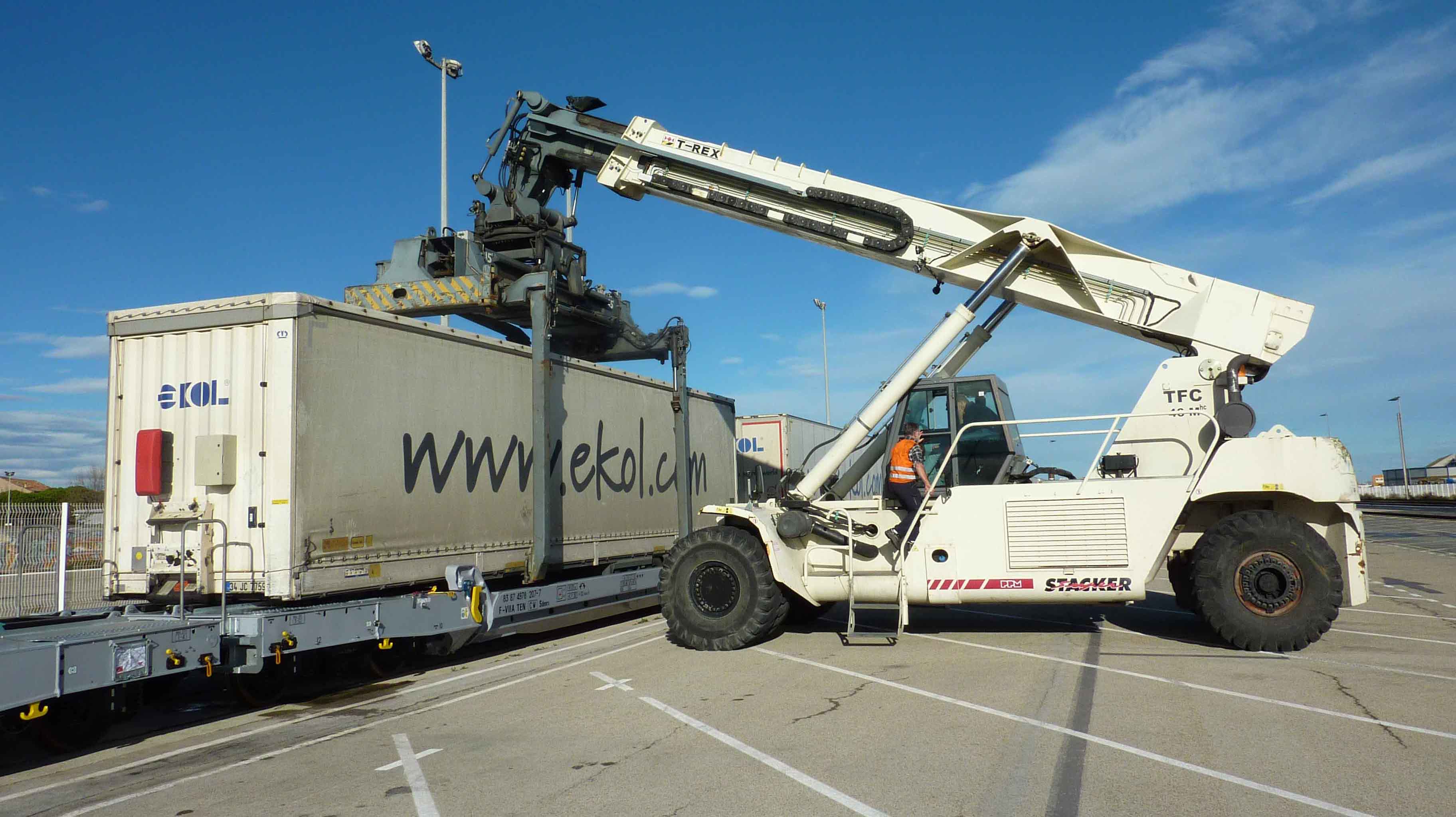 Wagon leasing companies like to buy versatile equipment. Lohr UIC wagons are designed for horizontal loading, but also for vertical loading. This was being tested on December 15, 2014, in the port of Sète for the service to Noisy-le-Sec near Paris. Lohr photo
20 hours and 70 km/h
Viia Britanica's 1400-km run between Calais and Le Boulou will require 20 hours and will thus offer an average speed of 70 km/h. Viia says it will use Fret SNCF for traction because of the operator's solid presence all along the route.
Viia believes that as an integrated Ro-Ro maritime and rail service between Spain and Great Britain open to all standard semi-trailers, Viia Britanica will restructure transport flows in favour of unaccompanied transport of semi-trailers. The catchment area of the Calais terminal includes the UK via the Ro-Ro cross-Channel ferry, but also northern France and Belgium; the Le Boulou terminal's catchment area includes Catalonia and southern France.
In 2016, Viia Britanica plans to carry 25,000 trailers between Calais and Le Boulou (i.e. 12,500 in each direction) and to increase this to 40,000 semi-trailers per year within five years. At the Calais terminal's inauguration on October 23, 2015, a number of trucking companies pledged to regularly use the new service. Most of them already use Lorry-Rail's Luxembourg – Le Boulou service.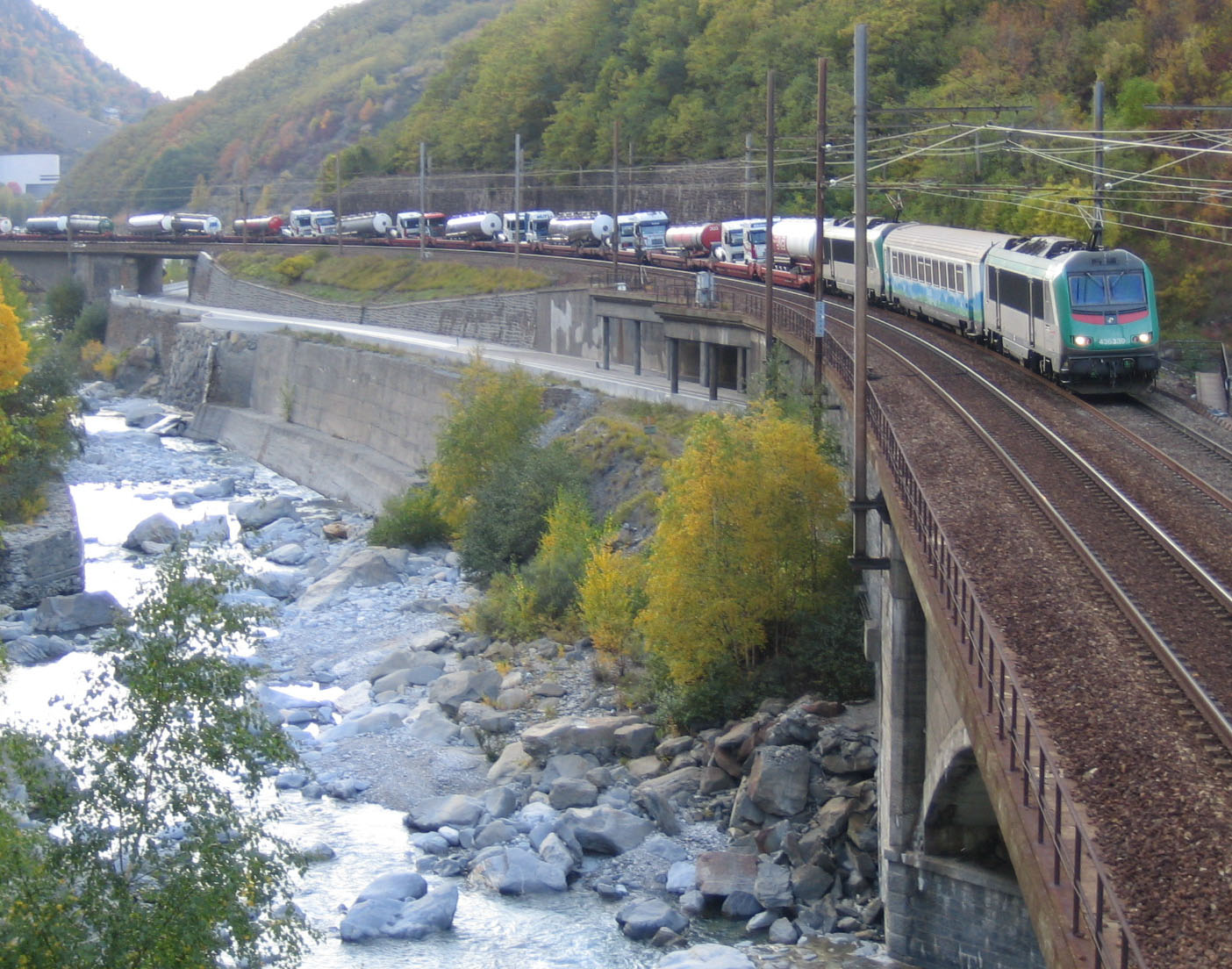 The Alpine Rail Motorway on October 14, 2005, in the Maurienne valley next to the village of Orelle and its gondola to the Val-Thorens ski region. Photo Sébastien Lange, Lohr
Alpine Rail Motorway
Since its launch in 2003, the Alpine Rail Motorway or Autoroute Ferroviaire Alpine (AFA) has transported some 250,000 loading units on the 175-km line between Aiton near Chambéry, France, and Orbassano near Turin, Italy. A tractor accompanies about 5% of these loading units. Each AFA train consists of 11 Modalohr wagons, each of which can carry two semi-trailers. Five trains run daily in each direction.
AFA accepts both unaccompanied trailers and accompanied tractor-trailer rigs. In the latter case, two trailers ride in two cradles and their tractors ride in a third cradle. Their drivers ride a passenger coach coupled to the train. On its environmentally sensitive Alpine route, AFA reduces the noise and particle emissions of trucks.
Lorry-Rail between Luxembourg and Le Boulou

The 1050-km Lorry-Rail service has been running since 2007. Lorry-Rail's majority owner is SNCF (58%); CFL owns 33%. A Lorry-Rail train consisting of 24 double wagons carrying 48 semi-trailers measures 850 metres and can weigh 2300 tonnes. The service runs 20 trains pairs a week, spread over 7 days, and in 2014 moved 65,000 loading units.
Reliability and low-cost maintenance

On the AFA and Lorry-Rail services, Lohr wagons have already run more than 10 million kilometres and carried more than half a million semi-trailers. This has allowed Lohr to document the reliability and low maintenance costs of both the Lohr wagons and their ground equipment in intensive, difficult operating conditions, including snow, ice and extreme temperatures.
Another variant of horizontal loading is the very low wagon used on rolling motorway services through the Alps and elsewhere, in which each tractor-trailer rig loads itself from one end of a train composed of very low flat wagons. The tractor and usually the driver ride with the train. Such low wagons require tiny wheels whose rapid rotation makes them costly to maintain.
In contrast, Lohr UIC wagons use off-the-shelf European bogies with large, low-maintenance wheels. The bogies at the ends of the Lohr UIC wagons have the same 920 mm wheels as many conventional wagons. The centre bogie's 840-mm wheels are typical for intermodal flat wagons. The Lohr UIC wagons also have standard European brake systems.
Place of a Lohr run within a longer truck run
In conventional intermodal service with just one departure per day, trucking companies schedule road delivery and pickup of loading units around the train's timetable. A long train trip is thus typically sandwiched between short truck trips at each end. Because a Lohr UIC wagon can carry any standard European semi-trailer, services that use it can appeal to a much larger market. According to the business model for the Lohr UIC wagon, this will elicit a volume of semi-trailers that supports up to four departures per day. This and the terminal's 24-hour operation mean that a trucking company can arrive with a semi-trailer at any time, knowing that the next shuttle's departure is within six hours. This in turn means that the rail leg can be part of a much longer trip.
Lohr points to the example of Peugeot, which moves semi-trailers of auto parts between its plants in Mulhouse, France, and Valladolid, Spain. One driver does not go the whole distance; instead, the tractor is passed seven or eight times between relay drivers who only work in their home region. A Lohr rail motorway can replace a number of road relay jumps in the middle of such an itinerary.
Customer benefits
On the corridor between northern and southern France, the price of moving a container or swap body is about €450, whereas the cost of moving a semi-trailer on Viia Britanica is about €680. In exchange for the higher price, Viia Britanica customers are able to use standard semi-trailers instead of having to acquire cranable semi-trailers, containers or swap bodies just for the intermodal service. Also, Viia Britanica promises to offer four departures a day instead of the once-a-day departures typical of conventional intermodal.
Viia Britanica plans to progressively increase departure frequencies in Calais and Le Boulou to four a day. Lohr photo, August 26, 2015, at Woippy (near Metz, France).
Cost savings compared to all-road journeys
Viia estimates that the following features of Viia Britanica will enable a trucking company to save 10% to 15% compared with all-road movement:
No need to devote a driver and tractor to the semi-trailer's line-haul voyage.
Savings on fuel and maintenance such as tyre replacement.
Elimination of rest-stop requirements for the long-haul tractor driver and of prohibitions on night travel.
Limitation of tractors to short-haul journeys, which eases compliance with rest-time rules and lets drivers work closer to home.
Other advantages

The Lohr technology also offers advantages that may indirectly accrue to trucking companies:
Electrification of terminal tracks: The horizontal loading of Lohr UIC wagons allows electrification of terminal tracks. Electrification is impossible in terminals for vertical loading, where a diesel locomotive must take over from the electric line-haul locomotive to shunt the train into the terminal. With horizontal loading, the electric line-haul locomotive can pull the train directly into an electrified terminal track. This saves the intermodal operator time and money.
Avoidance of clearance projects: The Lohr system also benefits rail infrastructure operators by reducing the need for costly projects to enlarge line clearances.
Flexibility
The Lohr rail motorway system also provides the trucking company with flexibility due to:
Multiple departures per day, including on nights, weekends and public holidays
Quick loading and unloading
The ability for a trucking company to reserve a berth on the rail motorway train online an hour before the train's departure
Productivity
The Lohr system also helps trucking companies improve their operations' productivity. The following table compares conventional and Lohr-system intermodal operations.
Conventional intermodal

Lohr UIC wagons

Loading
Vertical
Horizontal
Loading units

Containers
Swap bodies
Semi-trailers reinforced for craning

Ordinary, non-reinforced semi-trailers
Semi-trailer market
Limited to the 3% of European semi-trailers that are reinforced for craning
Open to all standard European semi-trailers
Departure frequency supported by market volume
Typically one per day (overnight)
Objective is four departures per day
Terminal opening times
Typically around train times only
Objective is 24 hours, 7 days
Turnaround at terminal
Slower; gantry crane or reach stacker can only handle one loading unit at a time
Line-haul and/or terminal tractors can unload/load several wagons at once.
Wagon purchase price
Lower
Higher
Wagon productivity
Lower
Higher
Pickup and delivery by trucking company

Delivery of outbound loading unit before evening train departure
Pickup of inbound loading unit after morning train arrival

With four trains a day, a tractor can drop off an outbound semi-trailer and pick up an inbound immediately
Productivity of trucking company operations
Lower
Higher
Productivity of conventional and Lohr-system intermodal operations from the viewpoint of trucking companies.

Public benefits

Proponents of the Lohr system argue that it will allow significant expension of rail motorways and thus benefit not just their customers, but also the public:
Road congestion and safety: A rail motorway alleviates road congestion and improves safety, particularly for the transport of hazardous materials.
Carbon savings: According to its proponents, a rail motorway train fully loaded with 40 semi-trailers emits only about 20% of the CO2 as the same number of semi-trailers on the road. On the Calais – Le Boulou route, this translates to one tonne less CO2 for each semi-trailer carried.
Modal shift: Because the Lohr UIC wagons are adapted to existing rail infrastructure and to ordinary semi-trailers, the Lohr wagons can travel most anywhere on the European main-line rail network. Lohr therefore believes that their technology can facilitate modal shift on a large scale.
Indeed, various operators are working on projects based on Lohr UIC wagons throughout Europe with the aim of providing a reliable and economical alternative to the road, particularly on the nine priority corridors of the Trans-European Network (TEN), where trucking is still growing fast. These projects are consistent with the EU's road-rail transport technology deployment plan, which aims to open 10 lines over the next 10 years and save over 12 million tons of CO2 by transferring more than a million semi-trailers per year from road to rail.
Rail motorways deep into Spain
The Atlantic Rail Motorway (Autoroute Ferroviaire Atlantique) was originally to run between the Dourges terminal in northern France and Tarnos, next to Bayonne and about 45 km northeast of the Spanish border. But the project was delayed by restrictive tunnels south of Poitiers and by local opposition in Tarnos. The new plan is to continue on three-rail track to Vitoria, Spain, where semi-trailers will transfer to Iberian-gauge Lohr trains to southern Spain and Lisbon. Opening is slated for 2020.
Lohr UIC wagons are designed to use standard bogies of both UIC and Iberian gauge. Like their compatibility with both horizontal and vertical loading, this versatility gives the Lohr wagon a better resale value and thus reduces risks for its buyer. There are no plans, however, to change the bogies of Lohr wagons in mid-journey at gauge-break points.
Test of a loaded Modalohr wagon on Switzerland's Gotthard route on October 24, 2012. Photo Lohr
Over the Alps
Plans are progressing for other services – including through the Swiss Alps – with Lohr UIC wagons and Lohr terminals. Test runs took Lohr wagons over the Gotthard mountain route in 2012.
New and expanding operators
Lohr believes that established intermodal operators such as Hupac or Kombiverkehr are not interested in the Lohr technology because they have invested in thousands of wagons with conventional vertical loading and benefit from well-established terminals whose construction and upkeep are subsidised. These carriers seek to minimise the cost of rolling stock, which unlike terminals is not subsidised.
But the requirement for reinforced trailers limits the market of these established operators to the 3% of the semi-trailers in Europe that are reinforced for craning. Lohr therefore sees its main market in new and expanding intermodal operators such as Viia and CFL Cargo.
Train lengths
A critical factor for the viability of any rail freight service, including rail motorways, is the maximum train length its route allows. Maximum train lengths in the network statements of national railway infrastructure operators may overstate or understate the train length that the operator will allow when a train operator requests a specific path. But all European rail networks have investment programs to progressively enable longer trains.
Less need elsewhere
Lohr sees no market for its wagons in Russia or North America because their railways' generous loading gauges allow normal trailers to ride on normal wagons. Nor does Lohr see a market in the UK, where tight clearances often prevent a 4-metre truck from driving through a railway tunnel, even on the ballast.
George Raymond can be reached at graymond@railweb.ch.
© Copyright 2016 Railweb GmbH. All rights reserved.
Back to Railweb Reports